One of my other passions besides makeup is baking! In the past, I have made cakes, cookies, muffins, cheesecakes, galore! Today I will be baking two different things: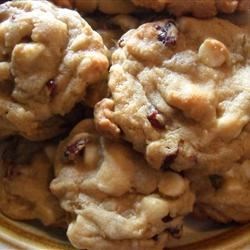 1) White Chocolate Macadamia Nut Cranberry Cookies They look yummy right? You can't go wrong with cookies around this holiday season!
2) I'm going to find a great mix for a cake because I'm running out of ideas! I'll let you know what I end up finding/baking!!
EDIT: My sister is super picky, and didn't like any of the ingredients of the cookies, so I made my famous strawberry cheesecake instead. Tomorrow, my little brother will be making his famous ice cream sundaes!
So what are you baking this holiday season? Let me know in the comments below!
Remember to enter the giveaway to win an Urban Decay eyeshadow from yours truly! Click here to enter!